Joe Predicts A 6-10 Season
September 7th, 2012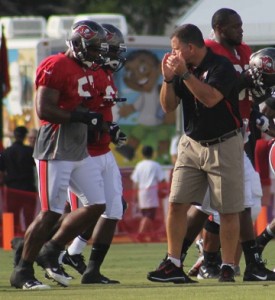 Joe gets asked all the time what he thinks about the Bucs' prospects for the 2012 season. And Joe now has an answer to share. Preseason "calls" are almost obligitory for every fan, an annual tradition. They're fun. They're annoying. Here's what Joe's thinking:
Every Bucs fan wants to imagine Greg Schiano is the next Jim Harbaugh, but that can't be expected.
Schiano is a first-year head coach, with a first-time offensive coordinator, and the Bucs have new systems on both sides of the ball.
Schiano also has to overcome a team whose core is stuck in a 10-game losing streak. That's not always so easy to stomp out of a team's collective mindset. The head coach also is hoping for huge seasons from two starting rookies on defense and he's banking on guys defensively that are injury-prone and unproven. Also out of the gate, Davin Joseph is toast for the season.
Those are some damn difficult hurdles to overcome immediately in order to become a winning football team in 2012. Also working against the Bucs is the fact that Schiano isn't walking into a heinous NFC West, like Harbaugh did last year. Schiano is jumping into a division that's loaded with talent and successful teams in the Saints and Falcons, and one in Carolina that had an elite offense in 2011.
Joe would love to see Josh Freeman prove otherwise, but right now he's the fourth best quarterback in the NFC South and he likely doesn't have a defense that can win him games.
Yes, Joe does believe in the New Schiano Order. Joe's toes are on the line. Joe looks at the schedule and the task at hand and sees the Bucs winning two games in the first half and evolving into a more dangerous team that goes 4-4 in the second half. Add that up and Joe predicts a 6-10 season.
That written, Joe truly won't be stunned if the Bucs surprise and do a little better. The Bucs have playmakers, assuming they stay healthy. Guys like Aqib Talib, Vincent Jackson, Josh Freeman and LeGarrette Blount have proven they can put a team on their backs for a game.
Joe's rooting for the Bucs to go 16-0 like every other fan, but Joe's expectations sit at 6-10.