Offseason Big Reason For Mason Foster's Growth
August 22nd, 2012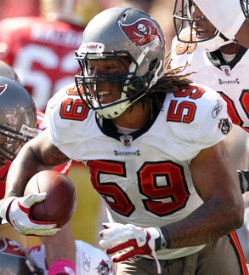 For Bucs fans who haven't thrown themselves into the waiting path of a semi yet, distraught over the Bucs' loss to the Titans last week, many will have noticed a different Mason Foster.
Even in training camp, it was easy to see the second-year middle linebacker is a different player. Last year, with no offseason to speak of and a handful of practices in training camp, Foster was thrust into the starting lineup, likely a year too soon.
Foster, who was an outside linebacker at the University of Washington, looked at times last year simply overwhelmed. Of course, he didn't have much help on either side of him or in front of him for that matter.
Now, with a full offseason, OTAs, minicamp, et al, Foster has taken advantage and is a different player and in some respects, a team leader.
Najee Goode even spoke of how at Miami for the first preseason game, he roomed with Foster and the duo did little but go over their playbooks.
Foster admitted to Joe that a full offseason has made all the difference in the world.
"It's helped tremendously," Foster said. "Being here, I had the ability to talk to the coaches, study, just everything. It was being more comfortable being in the city, everything. Having an offseason to have time to hang out and study and left, everything contributes.
"We have great coaches and a great staff. It has all helped."