Jeff Demps Chooses Family, Patriots
August 22nd, 2012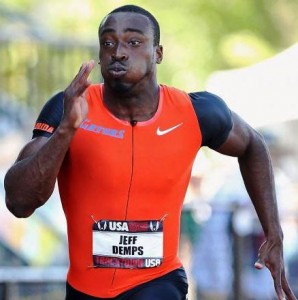 Joe just got bombarded with e-mails and Twitter messages about how, if the Bucs signed former Gators slash player and Olympic medalist Jeff Demps, why, he would be the answer to all of the Bucs ills and by golly, Greg Schiano would be hoisting the Lombardi Trophy aloft in victory come February.
Well, Demps showed up at One Buc Palace today alright, wearing a New England Patriots uniform. Demps signed with the Belichicks, turning his nose up at the Bucs citing the "family" of the Patriots, writes Scott Reynolds of PewterReport.com.
As it turned out, the Patriots won the recruiting battle and Demps, who played football and ran track at the University of Florida, is thrilled to be playing with Tom Brady and Co. and didn't have a hard time deciding between New England and Tampa Bay. Demps traveled to New England for a workout on Thursday and flew back to Florida on Friday and signed his three-year contract, which features $211,000 of guaranteed money, according to NFL.com, with the Patriots.

"Once I talked to the Patriots I got the feeling that that's where I wanted to be," Demps said. "Everything was family-based. It was like I was already part of the team. It wasn't hard for me to decide to go with the Patriots."
Simply put, Joe isn't losing any sleep over this. For the most part, Olympic athletes rarely have the same success in the NFL as they have on the track. Earlier this week, Joe had a link of the Top 10 NFL Olympians, and Nos. 6-10 were largely forgettable.
Joe also scoffed at the notion that Demps would help sell tickets because he played for the Gators. Ahmad Black had a better career as a Gators safety. How many tickets has he sold? Seems there have been multiple blacked out home games since Black joined the Bucs.
Then there is the ugly little stat unearthed by cricket-watching, scone-loathing, Deadspin-tarred-and-feathered Peter King of Sports Illustrated that Demps was a fumbler at the University of Florida.
That's a cardinal sin in the New Schiano Order.