Jeff Faine Returns
August 29th, 2012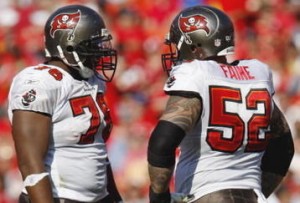 Many Bucs fans have been bellowing for a return of Jeff Faine to help the Bucs fill the void left by Davin Joseph, but that's not happening.
The former Bucs captain and players union man Faine is a new center for the Bengals, Associated Press reported this afternoon.
Cincinnati lost starting center Kyle Cook and Chucky's brother, Bengals offensive coordinator Jay Gruden, will hand the ball to Faine, who had been training in the Orlando area. It's quite a stroke of fortune for Faine, who goes from his couch, albeit surely a luxurious one, to a key role for a playoff team.
Joe wishes Faine well.