Raheem Defends His Discipline
August 29th, 2012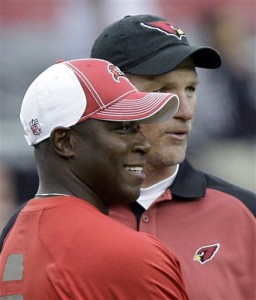 Raheem Morris hears about how his Buccaneers were undisciplined and the former head coach laughs.
That's just one big funny misrepresentation of the Raheem era, so he told Rick Stroud on WDAE-AM 620 today.
Rick Stroud: Talk about just that criticism about whether or not you were able to instill discipline on what, at that time, the three years you had it, was the youngest team in the league.

Raheem Morris: First of all, we won 10 games [in 2010], we were a very disciplined team. We won a bunch of games in two-minute when you have to be disciplined. You got to do all the right things, things have to be executed exactly the right way in order to win those tight games and those close ones, which we did. You know, last year we weren't able to accomplish those things, so you're undisciplined. You know I kind of laugh about the rumors and I kind of laugh about the things that happen now because whenever you get fired, whenever you move on to the next guy, it's always because of discipline. They said the same thing about Belichick. They said the same thing about Mike Shanahan in Denver. They said the same thing about most of those guys in our profession. And you can't look at it like that. It's just kind of the same story that's going to be written every single time a guy gets fired, and that's just what happens.
Joe finds Raheem's line of thinking curious at best. The two Bucs coaches hired and fired before Raheem, Chucky and Father Dungy, were never accused of running an undisciplined program. So Raheem's thought process of "every single time a guy gets fired" it's about discipline makes no sense.
Raheem just doesn't seem to get that a disciplined football team never would have performed the way the Bucs did over the final 10 games of 2012.
You can listen to the entire interview below.