Greg Schiano Was Not A Happy Camper At Half
August 17th, 2012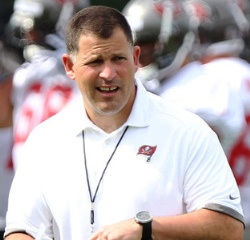 When the leader of the New Schiano Order sprinted off the field at halftime, somehow a brave member of the Bucs media relations staff was able to corral him for a few questions and, not surprisingly, Schiano was not pleased with the Bucs play in the first half.
"I don't think we protected very well," Schiano said of the pass blocking.
Schiano had harsher words for the defense. When asked if the Bucs had improved tackling, Schiano said, "Some guys [yes], others no. It really was a half of missed opportunity. We had some chances to make some plays that weren't tough plays and we didn't make them."
Something tells Joe the Bucs players are going to have a penance to pay this week in practice for the slop that was displayed on the field of the stadium on Dale Mabry Highway.