LeGarrette Blount Suffers Groin Injury, Not Knee
August 17th, 2012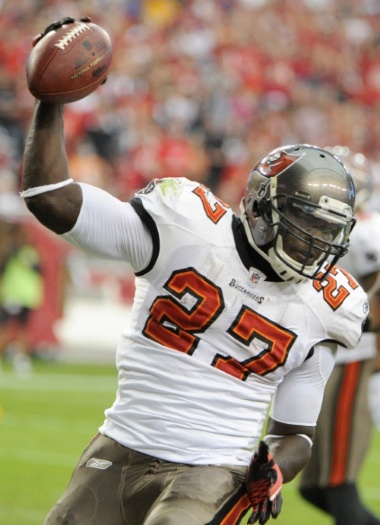 In his postgame press conference, Bucs coach Greg Schiano stated that the ugly injury to LeGarrette Blount was a groin injury, not a knee injury.
It was a grotesque injury while Blount was trying to carry a couple of would-be tacklers when he was drilled and felled by what appeared to be a shot to his left knee.
Blount writhed in pain for several minutes on the ground and gingerly walked off the field, with the aid of Bucs trainers.
As halftime ended, the video feed of the Bucs broadcast of WTSP-TV showed Blount pacing up and down the sidelines with his full pads on sans helmet, limping, but walking.
This is very good news for Bucs fans as there is no secret Schiano wanted to use Blount and rookie Doug Martin as a two-headed monster in the backfield.
Look for Blount to likely be shelved for a week or two so his groin recovers properly in an effort to get him ready for the season opener.
Blount spoke to the local pen and mic club and while he admitted he was in pain on the field, he downplayed the seriousness of the injury, stating he would be evaluated Saturday,
Joe can confirm that Blount's knee was not in any type of a wrap in the locker room.