One Bright Spot To Ugliness
August 17th, 2012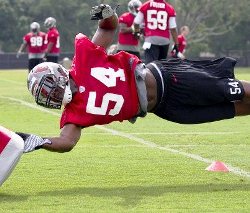 Halloween came in August for Bucs fans and it was no treat at the stadium on Dale Mabry Highway.
The offensive line couldn't block. The defensive line couldn't tackle. LeGarrette Blount hurt his knee.
The Titans' pass rush was such a jailbreak repeatedly that backup quarterback Dan Orlovsky only wished he could make it to the back line of the end zone in order to escape the game in one piece.
But even in the most trying of times, there is a glimmer of light. The Bucs' linebackers actually played OK. Rookie linebacker Lavonte David actually played really well.
No, he didn't flash for a pickoff, he didn't shine on a sack. But he did the little things right.
One example was on a run play by Chris Johnson to the right side. The Bucs linebackers had Johnson bottled up and as Johnson is wont to do to many NFL teams, he was ready to reverse field for a big gain.
But no! As soon as he turned to his left, he was met — rudely, in fact — by David.
On the run play, to the opposite side of the field from David, the Bucs rookie trailed Johnson, filling the gap which is the disciplined thing to do. This prevented Johnson from being able to reverse field.
So when plays of this ugly night creep back into Joe's memory (Jeremy Trueblood getting routed; Jeremy Zuttah getting abused; Blount's injury), Joe will also try to remember how well David played in this mess of a game.