Goodbye, E.J. Wilson
August 31st, 2012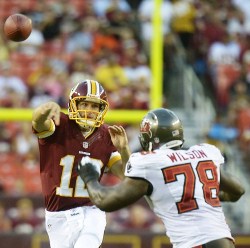 It seems E.J. Wilson, who prior to the New Schiano Order had some of the most (ahem) interesting Twitter posts that were sent out at 2 a.m., is no longer a Bucs player.
The ubiquitous Woody Cummings of the Tampa Tribune, rather than those relying on now-deleted Twitter postings from an MSMer, is doing gumshoe journalism and is tracking down agents of players believed to be on the bubble, including Wilson's.
@RCummingsTrib: Add DL E.J. Wilson to the list of those released by the Bucs. Agent confirms the surprising news. Wilson looked very good during camp
Yes, Wilson had some strong practices and games, including the win over the Patriots in preseason.
Sadly for Wilson, Joe will long remember his politically incorrect Twitter ramblings in the middle of the night (like how he hated women because all he wanted was sex and women wanted a relationship) than Joe will of him making any plays on the football field.