Bucs Not Close To Selling Out Season Opener
August 31st, 2012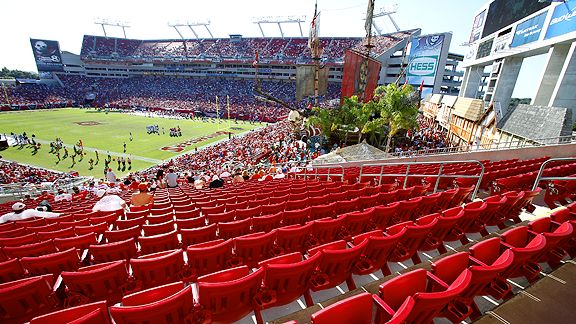 Joe has gotten plenty of e-mails and Twitter messages about how close the season-opener is to being sold out.
Joe has learned the answer: not remotely close.
Per — you guessed it — Woody Cummings of the Tampa Tribune, the Bucs need to sell 9,000 tickets in the next seven days just to reach the 85 percent non-premium seating threshold to ensure the game is televised locally.
That's about one-fifth of the stadium.
Team Glazer has just about done whatever it can to see the game soldout short of handing out tickets for free on the beaches and in the shopping malls.
Ticket prices have been dropped. There is free parking for the opener. Concessions were cut in half for the opener. Still, it appears, NFL fans and Bucs fans as well would rather sit at home and watch the NFL Sunday Ticket and the Red Zone Channel and monitor their fantasy football teams while on the couch in air conditioning with cheaper beer and food.
Many have stated that thanks to technology, the at-home experience is far better than the in-game experience. Consider the Tampa Bay area to be Exhibit-A for that theory.
In short, if you want to watch the game live and don't want to wait until midnight to watch the game via NFL.com or the condensed rebroadcast on NFL Sunday Ticket, you better buy a ticket.