Mark Barron Reportedly Inks Contract
July 20th, 2012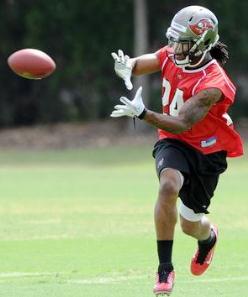 Leave it to the long NFL tentacles of the creator, curator and overall guru of ProFootballTalk.com, Mike Florio, to learn of Bucs first round draft pick Mark Barron agreeing to terms with the Bucs.
NFL Network also is confirming Florio's report.
Per a league source with knowledge of the situation, the Buccaneers and Barron have agreed to terms.

The fully-guaranteed, four-year contract includes a signing bonus of $8.961 million and base salaries of $390,000 in 2012, $1.047 million in 2013, $1.705 million in 2014, and $2.362 million in 2014.
Obviously this is good news for Bucs fans and first-year coach Greg Schiano that everyone is in the fold and everyone shy of Da'Quan Bowers will be at training camp.
Now Mark, stay away from the long Popeye arms of Brian Price and all should be good!