Talib Talks "Order" And "Too Loose" 2011
June 29th, 2012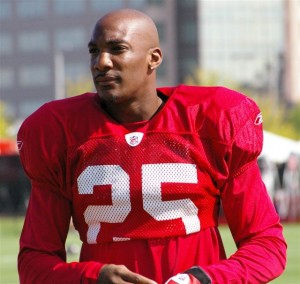 Live at a football camp in the Atlanta area this week, on the heels of his community work with Greg Schiano, Aqib Talib joined 790 AM in Atlanta and talked about the New Schiano Order versus the Raheem Morris era and his feelings about the dismissed felony assault case against him in Texas.
Talib doesn't do many radio interviews, and Joe found him extremely relaxed and a man that knows the Bucs were all out of order in 2011.
On Greg Schiano, Talib said his militant approach is fine for a young team and corrects the problems of the Raheem era, when things were" too loose," Talib said.
"Man, he's suited," Talib said of Schiano. "He is a former college coach, but we have such a young team, you know what I'm sayin'. We are fresh out of college ourselves. So we're kind of used to that, kind of used to that kind of format of practice, that kind of, you know, discipline kind of thing. That's kind of where we just came from. I feel like Ronde, man. We did need it. It kind of got a little loose last year, where I'm saying, where people kinda, it got a little too loose around the building, you know. So Schiano came in and definitely brought that order back to the building."
Talib also said the dismissed assualt charges against him were an attempted money grab by the complainant. And Talib went on to further contrast the old Bucs regime to the new one. "The biggest difference is just, I think, the attendance, man," Talib said. "We have probably like 97, 98 percent attendance since April 4, since we started our offseason program."
It sounds to Joe like Talib — and other Bucs — are not just accepting the New Schiano Order, they're appreciating it coming off the mayhem that engulfed the team in 2011.
Joe thinks that's a significant distinction and a great sign. Few, if any, remaining Bucs will be thinking the grass is greener with a different type of coach. That should seriously speed up the critical buy-in factor needed for the Bucs to be competitive.