Vincent Jackson No. 16
June 30th, 2012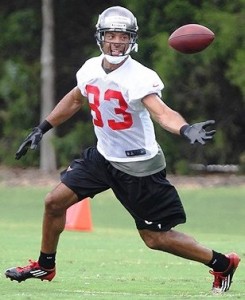 Yes, the Bucs, specifically, rock star general manager Mark Dominik, made a big splash in free agency in the offseason, luring in wide receiver Vincent Jackson, offensive guard Carl Nicks and cornerback Eric Wright.
Of course, Joe is excited to learn just how Jackson can help what was a woeful Bucs offense last season. It seems many have high expectations for Jackson, and not just the Bucs.
ESPN NFC South blogger Pat Yasinskas is counting down the top 25 players in the division and he has Jackson as the NFC South's No. 16 ranking.
Vincent Jackson, wide receiver, Tampa Bay

What he did in 2011: Playing for the San Diego Chargers, Jackson caught 60 passes for 1,106 yards and nine touchdowns. His most impressive statistic might have been that he averaged 18.6 yards per catch. The Chargers wanted to keep Jackson, but they had some salary-cap limitations. The Buccaneers didn't and they broke the bank to get him to Tampa Bay.

Why he's No. 16 in 2012: Jackson instantly gives quarterback Josh Freeman a much-needed true No. 1 wide receiver. He's a proven commodity and he allows Mike Williams and Arrelious Benn to step into supporting roles. Jackson's a big target (6-foot-5) and he has shown the ability to get open downfield and to break tackles after shorter catches. He and Freeman seem like a perfect fit. New coach Greg Schiano has said his offense will run the ball a lot and take some shots downfield. There aren't many receivers more worth taking deep shots to than Jackson.
Already Jackson is making an impact with the Bucs and the team has yet to put pads on. Mike Williams has told Joe about how Jackson is helping him watch film and not just what to look for, but develop a hunger for watching additional tape on opponents.
That's the kind of work ethic the Bucs sorely need, not the 'tude of a certain highly-paid, pampered tight end crying about how he can't joke around at practice.