Details Lead To Success For New Shiano Order
June 7th, 2012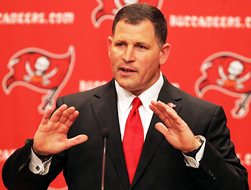 It seems some, for reasons unknown, are unnerved by the New Schiano Order.
Already cricket-watching, scone-loathing Peter King of Sports Illustrated has mocked new Bucs coach Greg Schiano for his thermostat ways and pasta preferences. But not all are on board with King's scoffing of Schiano.
It seems noted columnist Dan Pompei — who Joe briefly worked with, seemingly in another life — has a different view of Schiano. Pompei, via National Football Post, believes there is method to Schiano's madness.
Schiano has been the subject of some attention over the last couple weeks. He traded away tight end Kellen Winslow, the Bucs' most productive receiver a year ago, and then my friend Peter King reported Schiano monitors the temperature in Bucs meeting rooms.

Screw loose? Hardly. Schiano has reasons for doing everything he does, and he is one impressive coach. I don't say this about many coaches, but I will be surprised if he isn't very successful in the NFL.

So I asked Schiano what he was looking for in "Buccaneer men." He said, "Guys you can trust. Guys who believe in what we're doing. Guys who are accountable to each other–things that are becoming more rare every day in our world."
Look, Joe believes this attention to Schiano's attention to detail is a bit silly. First, who among us would not complain to a waiter if we were not served the specific pasta we ordered? Mocking Schiano for allegedly sending a staffer to complain about a pasta order gone wrong nearly smacks Joe of hypocrisy.
Joe seems to remember how Tom Coughlin penalizes players for not arriving to meetings and practices five minutes early.
How has rigid detail worked for Coughlin?