Trade Of Kellen Winslow No Loss
May 23rd, 2012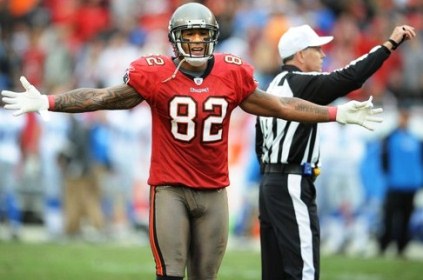 Some Bucs fans are still scratching their heads over the Bucs quickly unloading lightning rod tight end Kellen Winslow. Even Peter King was distracted from kvetching about scones to call out Bucs coach Greg Schiano for being a control freak for making such a move.
Alan Dell is of a different mind. The Bradenton Herald columnist believed Winslow was only a good player in Winslow's mind and that K2 was grossly overrated.
Winslow's ego shielded him from reality.

He wasn't one of the Bucs' best players, and he didn't get a ticket out of town because he wasn't at an OTA. In Winslow you had a guy with a bum knee who didn't like to practice or block and demanded the ball. This is not the kind of guy you want around all those young, impressionable receivers.

The Bucs got a conditional seventh-round pick for Winslow, which is about his worth these days.
Dell also goes on to point out how Winslow led all Bucs receivers in penalties with seven, many offensive pass interference, partly because he could no longer get separation like he once did.
Joe found a more telling stat from the football nerds at ProFootballFocus.com. Of Josh Freeman's 22 interceptions last year, nine of the interceptions Winslow was the intended target.
That pretty much documents just how often Freeman was forcing passes to Winslow, mostly because Winslow demanded it.