The New Trade Deadline And Aqib Talib
May 23rd, 2012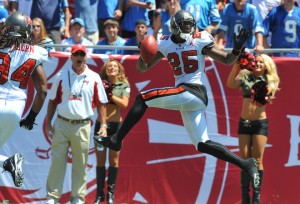 Joe was hoping the NFL owners would have bumped the trade deadline beyond the extension to Week 8 approved yesterday. Previously it was at Week 6, and Joe would have loved to see a Week 12 deadline to really drive more wheeling and dealing among teams. It would have been great for the league.
Specifically, Joe was keeping an eye on the owners' ruling on the trade deadline because of Aqib Talib.
If the Bucs are having a subpar 2012 season but Talib is thriving, then Joe figures Talib will be a prime candidate to be traded.
The reason is Talib's contract is up after 2012. Joe can't imagine the Bucs paying Talib the big free-agent contract he'll be seeking because Talib is such a hard guy to trust on and off the field. Sure, if Talib lights up the league in 2012, the Bucs could always drop the franchise tag on him for $10 million or so, but Joe thinks there are better odds of Carmella Garcia inviting Joe for an intimate hot tub session.
So in Joe's mind, Talib is the perfect guy to dump before a trade deadline when some team with a pressing need desires a big-time talent with short-term risk.
There likely would be a greater chance of that going down under a later trade deadline, but the move to Week 8 definitely ups the odds of midseason departure for No. 25.