Loss Of Da'Quan Bowers A Loss For Secondary
May 14th, 2012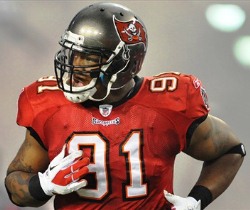 Though Joe isn't exactly curled up in a fetal position over the season-long loss to Da'Quan Bowers due to a tear of his Achilles tendon last week, Joe understands how this will certainly hurt the Bucs.
(Yes, Joe knows Bowers could return late in the season, but why? There's no reason to hold a roster spot for Bowers just for the final two or three games. And why rush him back when he could do more damage? That's irresponsible.)
Though Bowers started the last few games of 2011, he was a part-time player exchanging possessions if not plays with Michael Bennett.
But the loss of Bowers may hurt the secondary more than the defensive line. That's the thought from eye-RAH! Kaufman of the Tampa Tribune, as he appeared with Tom Krasniqi on WHBO-AM 1040 recently to discuss Bowers' injury.
Kaufman believes that with Bowers gone, the Bucs may have to blitz more, and that isn't a good thing he added.
"You don't want to blitz [with defensive backs]. They don't have a sterling secondary. It's not a lock-tight secondary yet. Blitzing is too much pressure on them. It's not going to work with this group."
But blitzing from linebackers, Kaufman said, is a different story. He is of the mind that the Bucs will work in special packages to take advantage of the pass rushing skills of Dakoda Watson and the speed of Lavonte David to put heat on the quarterback.