What Would Monte Do?
May 14th, 2012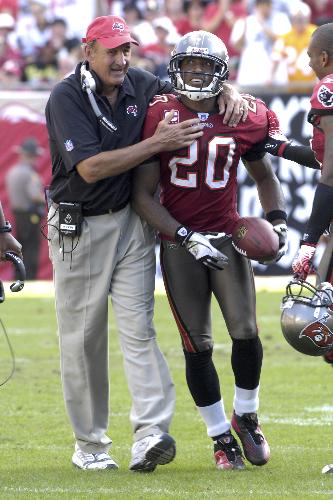 Joe had a warm and fuzzy feeling this afternoon listening to Movin' the Chains, hosted Pat Kirwan and Tim Ryan on SiriusXM NFL Radio.
Kirwan, the former and Jets team executive and linebackers coach, now a busy analyst for CBS Sports and NFL.com and others, talked about how NFL teams will be going into their computer archives to pull up film of Monte Kiffin's Bucs stifling Michael Vick in his prime with the Falcons.
Why? To prepare to play the Redskins and Robert Griffin, III.
What a great memory on a mid-May day.
Those were amazing Bucs-Falcons showdowns that showcased the greatness of Derrick Brooks like no other. (Interesting that the Bucs will take on both Vick and the Eagles and RGIII and the Skins at home in 2012).
And of course, any talk of a Bucs-Vick matchup would be incomplete without this Chucky video.