Expect Da'Quan Bowers To Get More Snaps
May 9th, 2012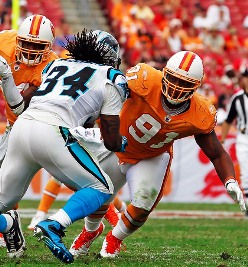 If one takes out the microscope and really, really tries hard, there was a positive thing or two to come out of last season's grotesque 4-12 record, replete with a heinous 10-game losing streak.
(And no, getting a fifth draft pick overall was not one of them.)
One positive was flashes that Da'Quan Bowers was as good as advertised.
Bowers, thought to be an early first round pick in 2011, plummeted to the second round because of his bum knee. But with his knee healed and becoming used to play in the NFL, Bowers, at times, was dominant.
One reason the Bucs had Bowers split time with fellow defensive end Michael Bennett was that it limited Bowers' pitch count. The less wear and tear on that bum knee, the longer Bowers can be a productive player.
Woody Cummings of the Tampa Tribune is of the mind that Bowers could be seeing more playing time because of his development.
Q: Will Da'Quan Bowers ever be the same dominating force he was in college? Can you discuss your expectations of him for the 2012 season? Will he ever fully recover?

Joseph Sims, Howard, Kan.

A: Bowers was fully recovered late last season. And it showed. He was often a dominant force as a pass rusher and run stopper late in the season and was just beginning to develop a comfort level when the year ended. I think he will prove to be a pleasant surprise for the Bucs in 2012 and beyond. He'll likely split time with Michael Bennett again, but he's probably going to surpass Bennett within a year or two and become the leading left end on this team.

— Woody Cummings
Well, since the Bucs have a Tom Coughlin disciple as a defensive coordinator, that tells Joe the second priority is to put heat on the quarterback, which is one reason you see new Bucs coach Greg Schiano loading up on defensive linemen.
(The first priority of the Bucs defense, to hear Adrian Clayborn tell Joe's good friend "The Big Dog," Steve Duemig, is to tackle.)
With an objective of getting a quarterback's jersey dirty, it's a good bet Bowers will see more playing time.