Draft "Tea Leaves" Favor Talib
May 1st, 2012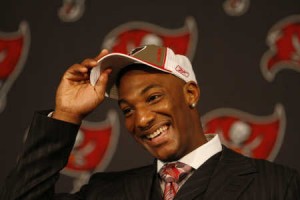 The incomparable and vivacious eye-RAH! Kaufman, NFL writer and Bucs beat writer of The Tampa Tribune, took to the WDAE-AM 620 airwaves yesterday to do what he calls "read the tea leaves" of the NFL Draft as they related to the Buccaneers.
What Kaufman saw in his bag of Earl Grey was a vote of confidence for Aqib Talib.
Kaufman said it's wise to project that the Bucs waiting until the sixth round to select a cornerback means the organization believes Aqib Talib will walk away from his felony assault with a deadly weapon trial in June with little or no punishment from Roger Goodell and the Texas penal system.
Now while Joe would be somewhat surprised if Talib is found guilty given the apparent flimsy evidence in the case, Joe doesn't have a clue what's in Goodell's head. However, Team Glazer likely does.
The X-factor in all of this is that Talib's alleged crime took place during the NFL's asinine lockout. Does Goodell want the inevitable legal and public relations mess associated with suspending Talib for his transgressions when he wasn't under contract?