Pressure Being Placed On Quincy Black
May 1st, 2012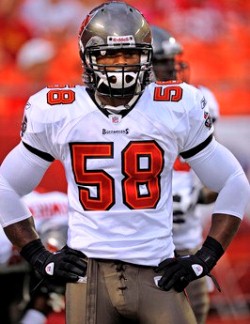 Last year during the grotesque 10-game losing streak that led to then-coach Raheem Morris being jettisoned, the Bucs defense turned in a historic franchise low, topped by the ghastly performance at Atlanta where the Dixie Chicks nearly hung half-a-hundred on the Bucs … in the first half no less!
There were many holes and fingers to be pointed at the defense but the linebacker player was especially grim. It reached the point where no linebacker unit in the NFL was worse than the Bucs'.
A mulligan could be handed out to rookie Mason Foster, who was playing out of position at middle linebacker and expected to call the defensive plays, with no offseason to speak of. He was simply in a no-win situation.
The second of the three starters, outside linebacker Geno Hayes, recently signed with the Bears to be a backup.
That leaves Joe with the third starter at linebacker, outside linebacker Quincy Black. Now entering his fourth season as a starter, he has done little to justify the contract awarded him by Bucs rock star general manager Mark Dominik after the 2010 season, a contract that still puzzles people to this day.
Well, if one can read between the lines of an article typed by Rick Stroud of the Tampa Bay Times, there were two shots across the bow in last weekend's NFL draft that Black had best step up his game in a serious way this fall.
In breaking down who might seeing diminished playing time as a result of the draft, he suggested that both linebackers Lavonte David and Najee Goode could push Black to the sidelines if his game is not elevated.
Round 2/58 David Lavonte, LB, Nebraska: Mason Foster.

Lavonte is most effective as an outside linebacker, where he can run and hit. That might also be the best spot for Foster, but it's more likely he will either remain at middle linebacker or move to strong side linebacker. The Bucs consider Lavonte the best linebacker in coverage in the draft, so he'll also remain on the field in nickel passing situations. That means either Foster or Quincy Black will leave the field on third down.

Round 5/140 Najee Goode, LB, West Virginia: Quincy Black.

At 6-foot, 244-pounds, Goode is powerful enough to play inside but coverage is not his strong suit, meaning he's a two-down linebacker. In the Bucs defense, that means he either plays the middle or strong side. Since you would prefer the middle linebacker to remain on the field on passing downs, look for Goode to get a shot to compete with Black, who did not live up to his 5-year, $29-million contract last season.
It appears the gauntlet has been thrown down by new Bucs coach Greg Schiano. Clearly he was horrified by the tapes of the Day-at-the-Races-like defense last season, when it only took a running back to turn the corner for a full-out jailbreak to occur.
At the Buccaneers draft party broadcast live last Thursday, defensive end Adrian Clayborn told Joe's good friend, "The Big Dog," Steve Duemig, that Schiano's primary for his defense was to focus on stopping the run first and foremost since that was a lost art last season.
And a big reason for that was the linebacker play.