Da'Quan Bowers Likely Out For The Year
May 10th, 2012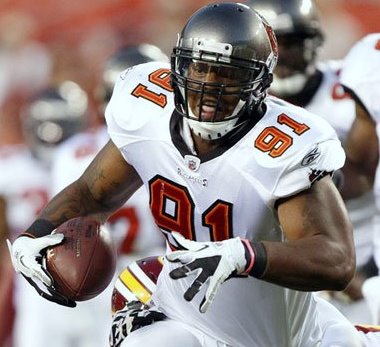 Per Woody Cummings of the Tampa Tribune, Bucs second-year defensive end Da'Quan Bowers has torn an Achilles tendon and is expected to be lost for the 2012 season.
Bowers is scheduled to have surgery Friday.
Bowers suffered the injury while participating in the Bucs' offseason conditioning program.
Though it is possible Bowers could return late in the year, that's more pipe-dream than a realistic expectation. If Bowers were to return, no one knows if he would be 100 percent or how he could play after such a short time after the surgery.
Now one wonders about Bowers' future. He already has a bum knee and add to that a surgically-repaired Achilles tendon. Not good for a defensive end to have such bad injuries to his wheels.
Bowers was drafted by Bucs rock star general manager Mark Dominik with a second round draft pick in 2011. He showed flashes of a player who was once thought to be a high draft pick. Bowers slid to the second round over grave concerns about his bum knee.
Michael Bennett will likely replace Bowers full-time at left defensive end in Bowers' absence.
The Achilles injury Bowers suffered was to his right leg. The knee problem he has battled is his left knee.