Wrong History Of Raheem And Hard Knocks
April 5th, 2012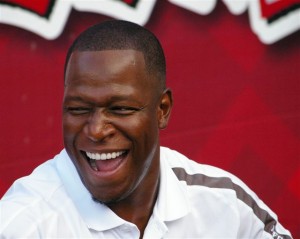 Joe could entertain himself all day long blasting ESPN, but that's not what this post is about.
Yesterday, Joe read ESPN NFC South blogger Pat Yasinskas' take on the Bucs and other teams potentially being featured on the HBO series Hard Knocks. Yasinskas, while assessing the Bucs slim chances of being on the 2012 edition, painted a picture of Raheem Morris asking his bosses to get his club on national reality TV last year. 
The Tampa Bay Buccaneers were courted for the show last season and former coach Raheem Morris was lobbying for his team to be on the show. Ultimately, the Bucs declined.
This smelled all wrong to Joe based on Joe's knowledge of the Bucs and Hard Knocks, and Joe has re-confirmed that, in fact, Raheem was dead set against his yungry bunch landing on Hard Knocks last season. Raheem himself spilled an explanation last year during an interview with the dean of Tampa Bay sports radio, Steve Duemig, on WDAE-AM 620.
"For us it was more about the first time we may get with our players could have been with full-fledged cameras in our face,"Raheem said. "And also, it could have been my first time seeing my team since [the lockout] or talking to them. And no matter what you might say, the guys shy away from you with a microphone on you.

"The one thing I didn't want to do was push Mike Williams away from me, or push LeGarrette Blount or even Josh Freeman because those guys don't necessarily don't want to be on the camera."
Raheem loved to call himself an "entertainer," but even Ray Charles could have seen that putting the young Bucs on Hard Knocks last year was a bad idea and could have hurt the great chemistry coming off a 10-6 season in 2010.
That written, perhaps a TV microscope might have tightened the Bucs' ship — the one Ronde Barber laughed about yesterday — and better prepared the team for the adversity that killed it last season.