Rumblings Of Manningham To Bucs?
February 26th, 2012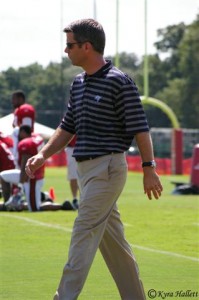 CBS Sports' Clark Judge has been snooping and sniffing around the NFL combine and has cobbled together enough chatter to believe the Bucs will approach Giants wide receiver Mario Manningham with a fat check when the free agency bell rings March 13.
Judge coughed up his report late this morning. Here's a snippet.
But there are other reasons Manningham won't be back, sources said. First, they said, he would know [Mike] Sullivan's offense, so there is no learning curve. Second, people close to Manningham indicate that he wants to go to a warm-weather club, and last time I checked Tampa Bay qualified on that score. Third, sources said the Giants probably wouldn't make him a contract offer, not only because they believe his price may be too high but because they're more interested in a wide receiver who can line up at more than one or two spots at the position, which, they said, Manningham cannot.
Now Joe's a little skeptical here. First, Judge is claiming Manningham "would know Mike Sullivan's offense." Well, last Joe checked Sullivan never ran an offense before and is still figuring out with Jimmy Raye and the rest of Team Schiano what he wants to do.
Plus Joe's hardly sold on Manningham, who may or may not be the speedster the Bucs are allegedly seeking to open up the field. He hasn't faced the double teams and challenges of a No. 1 receiver, and one great Super Bowl catch surely doesn't make him a great player.
If the Bucs are looking for a No. 1 wideout, Joe would rather see them go after someone unquestionably better than Mike Williams.