Ron Cooper Vs. Raheem Morris
February 25th, 2012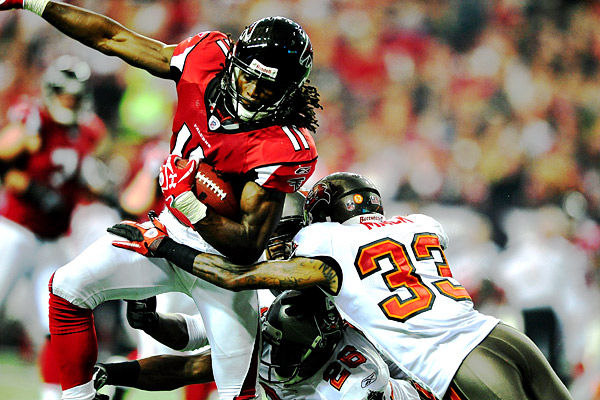 So when the Bucs hired LSU secondary coach Ron Cooper this week, the easy — and exciting — speculation centered around the prospect of the Bucs drafting stud LSU cornerback Morris Claiborne with the No. 5 overall pick in April.
But what's interesting on another level is Cooper's reputation for teaching and churning out quality NFL-ready corners at LSU.
Once upon a time Raheem Morris was arguably the top secondary coach in the NFL, leading the league's No. 1 ranked unit in 2007, when rookie Tanard Jackson still knew how to hit and tackle. Raheem was a top teacher and motivator at the position and allegedly had a good eye for picking college talent. Of course, Raheem got away from coaching the secondary as head coach.
While lots of Bucs fans are pining for the Bucs to snag established help in the secondary in free agency, Joe has to wonder whether Schiano and rockstar general manager Mark Dominik might be looking at Cooper as a guy who can coach up E.J. Biggers to at least his 2010 form, get Myron Lewis to realize his potential, and turn Anthony Gaitor into a player?
Perhaps, if Ronde Barber and Aqib Talib return, which should be known before the NFL draft, the Bucs would be content to keep the status quo at cornerback and simply upgrade the secondary by buying a replacement for Sean Jones?
… Suddenly, Joe will be keeping a close eye on how the Bucs approach Elbert Mack, who will be an unrestricted free agent come March 13.
Speaking to Woody Cummings, of The Tampa Tribune, Schiano scoffed at the suggestion he hired Cooper primarily to mesh with Claiborne.
"Somebody said to me, that's the only reason we hired him," Schiano said. "I said, 'Yeah, we would do that; we would jeopardize the entire football team for that.' No."

The reunion could still come about, of course. The Bucs are in need of help at cornerback, and Claiborne is expected to be available when Tampa Bay makes the fifth overall pick.

"We will have some inside info (on Claiborne)," Schiano said. "But that's not why we hired Ron. Ron is an exceptional secondary coach. He's an excellent coach, obviously, by the way (his) guys (at LSU) have performed."
If the Bucs get Talib and Barber back, Joe wouldn't cry about having the same cornerbacks in 2012, as long as that's balanced by new impact linebackers and a top replacement for Jones.