No Bruce Almighty Hangover
February 15th, 2012
Podcast: Play in new window | Download | Embed
Subscribe: RSS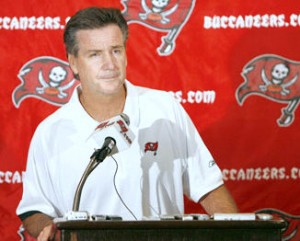 Bucs fans are irritated that the team has yet to announce its full coaching staff, including naming a defensive coordinator.
That's because the Bucs don't even know who their defensive coordinator is.
Part of the reason the full staff has not been announced is that the Bucs are constantly being denied to talk to various assistants from other NFL teams. Joe, as has many have, suspected that this is payback for the antics former Bucs general manager Bruce Almighty pulled often, denying other teams the opportunity to interview various Bucs assistants.
This is a fallacy, says Woody Cummings of the Tampa Tribune. Speaking on the too-Jewish sounding King David Show on WQYK-AM 1010, co-hosted by Toby David and former Bucs quarterback Shaun King, one of just three Bucs quarterbacks to lead the team to an NFC championship game, Cummings stated the blocks other teams are putting on Bucs rock star general manager Mark Dominik have more to do with timing and nothing to do with Bruce Almighty.
"[The Bucs are] probably starting to realize, as much as it was important for them to do their due diligence and pick the right coach, they are feeling it right now because it took three weeks to get their coach so they are a little behind the eight ball.

"The hiring season," as agents like to refer to it, is the first two to three weeks – tops – of the offseason. Once you get into a month out, people start to look at other things, at free agency and the draft, and teams want their staffs set. If you are in the position the Bucs are in, you are calling up a lot of teams who are trying to maintain what they've got, they don't want to be the ones out on the street trying to find a tight ends coach tomorrow that may be hard to find. That's why they have been denied a lot of the times.

"It doesn't have anything to do with getting back at the Bucs for the days when Bruce Allen was running the team and he wouldn't let his guys like Joe Barry and Rod Marinelli and Mike Tomlin get out of their contracts when they had opportunities. It's not really a payback, but it is ironic it is happening to the Buccaneers."
Cummings makes a solid point and this may very well be the reason Greg Schiano's coaching staff will be loaded with college coaches.
Let this be a lesson. It was pretty obvious former Bucs coach Raheem Morris was going to be jettisoned as the season wore down. Some on the inside suggest this was a fait accompli in early December. If that was truly the case, Team Glazer should have cut the chord at that time so the team and Dominik would have had a head start in interviewing candidates, thus, the Bucs wouldn't still be looking for a defensive coordinator in mid-February.
To listen to Cummings' entire interview, click on the little button below. (Audio courtesy of WQYK-AM.) Hat tip Justin.