The Bucs And The Salary Cap
February 15th, 2012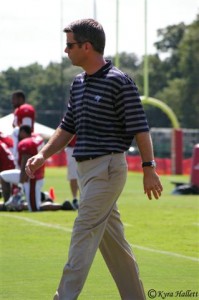 Yes, Joe's read recent reports about how the Bucs have "rolled over" unused salary cap space and plan to be active in free agency in 2012. Blah. Blah. Blah.
Frankly, Joe yawns at the topic and isn't inclined to write much about it. For Joe, salary cap chatter is boring unless it revolves around players having to be cut as it relates to the cap or, for example, if the Bucs were forced to spend a certain amount of money in the offseason to hit a mandated payroll number. But neither is the case in 2012, so Joe doesn't care much about the numbers.
Yes, the Bucs will make moves in free agency because they have no choice. The current "Plan" has always called for fixing draft misses in free agency. And the Bucs have at least one such huge hole at linebacker, cornerback and safety. So Joe expects the Bucs to snag at least two impact free agents at those positions, plus find something significant on offense — more significant than Kregg Lumpkin.
As far as the money goes, Joe can do math well enough to figure out the Bucs don't have to spend a mountain of money to make those kinds of free agent moves. Heck, if they move on from, say, Kellen Winslow and Jeff Faine, that's a big eight-figure pile of cash right there. Joe's not saying they will cut/trade those guys, just that spending money in free agence doesn't necessarily mean moving the payroll needle significantly.
Again, Joe just wants to see great players on the field, great teamwork and great coaching, and Joe knows final payroll numbers really don't have a lot to do with that.
Wtih so many holes on the team (secondary, linebacker, perhaps wide receiver) and house Team Glazer money in hand, the Bucs could be players, so writes eye-RAH! Kaufman of the Tampa Tribune.
"We'll be more active in free agency than we were last year," Dominik said Tuesday as new head coach Greg Schiano continued to work on filling out his staff. "We purposely rolled every penny we could into this year's cap. Clubs didn't have to do that, but we wanted to. We have plans."

An ESPN report said Tampa Bay is carrying over $23.5 million from 2011, estimating the Bucs will have $60.5 million in cap space heading into the Mar. 13 start of free agency, second only to the Kansas City Chiefs ($62.9 million).

"We'll be involved in free agency," Dominik said. "To what capacity, it depends on what the list looks like. We're prepared, and that's the most important thing."
Now Joe took Dominik's words as very guarded. In other words, the fantasy football crowd that thinks the Bucs are going drunken sailor spending on players may be a bit disappointed.
If Joe was in Dominik's position, he'd target a top shelf receiver, a mid-level cornerback (while drafting Mo Claiborne with the fifth overall pick) and try to get somebody to play linebacker.
That right there could result in three wins alone without pretending to be T. Boone Pickens.