With The Fifth Pick In The 2012 NFL Draft …
January 2nd, 2012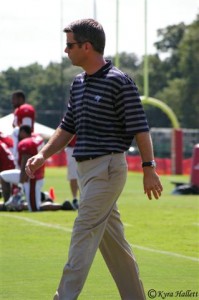 Joe realizes the thought of many new players on the Bucs roster is therapeutic to legions of Bucs faithful, so let this post be a moment of hope and happiness for you as the stain of the 2011 season rattles your core.
(Yes, Joe realizes most of you won't breathe easily until the Bucs have a new head coach, but try for a minute.)
By virture of their heinous 4-12 record, the Bucs have scored the fifth pick in the 2012 NFL Draft. Tampa Bay lost the tiebreaker with Cleveland for the No. 4 spot because the Bucs had a more difficult 2011 schedule, so BSPN reported.
Now Joe's hardly ready to talk draft with college games left to play and no knowledge of what kind of defense the Bucs might run next season. But Joe is pretty certain there will be endless debate over whether or not the Bucs should go after a running back like Alabama stud Trent Richardson with their beloved pick, in addition to spirited chatter about the Bucs trading down as they sit in a coveted position to draft a quarterback they don't need.
Of course, the Bucs are desperate for a linebacker, and a game-breaker receiver sure would have an impact.
With plenty of holes and question marks — will Ronde Barber and/or Aqib Talib return? — this will be one of the more fascinating offseasons in Bucs history.