Three Critical Questions Morris Must Answer
January 2nd, 2012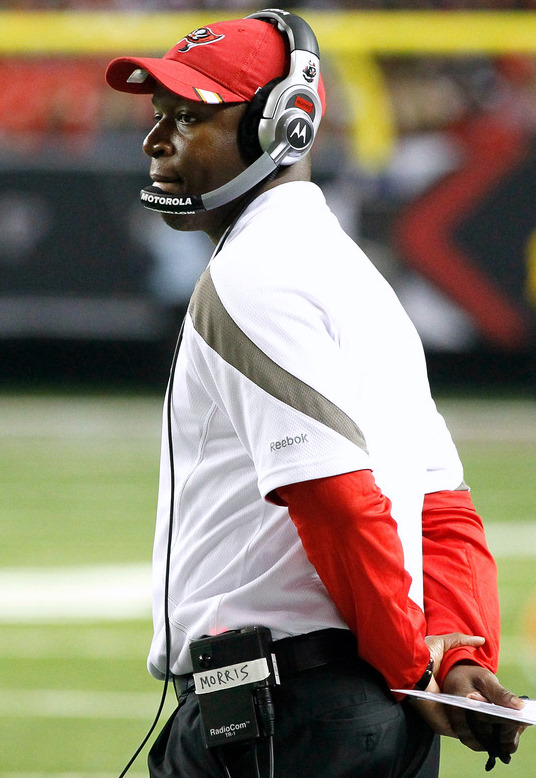 Before or after Bucs embattled coach Raheem Morris joins Joe – in a manner of speaking – at the Outback Bowl today to enjoy some good football for a change, he will have a sit down with perhaps Team Glazer or Bucs rock star general manager Mark Dominik or both to discuss his employment status with the Bucs.
Now, Joe knows that Team Glazer and Dominik, unlike the rest of us, are not mental midgets. So Joe suspects there are at least three questions that Morris needs to answer fully if he is to be retained as Bucs head coach, much less defensive coordinator.
1) Why was your team rarely prepared?
Now Joe knows that playing high school football in southern Illinois is in no way to be compared to the NFL. It's a preposterous thought. But Joe had the luxury of having a coach who had just retired from the NFL. This guy was coached by John Madden, Tom Landry, Gene Stallings and Lou Holtz, all in their prime. Indirectly, you could say Joe was also coached by Bear Bryant and Woody Hayes.
Whenever we, as a team, would ask our coach about how an opponent might react or respond, his stock answer was, with a devilish grin, "You never know." In short, no matter what defensive formation we were in, we were prepared for the kitchen sink to be thrown at us.
After games and in later years, Joe would talk to players of teams we beat, teams in some cases we had no business beating, and these former opponents would almost say the same thing, "It was like you always knew what we were doing."
It was preparation. That was drilled in our head: That the smarter team, the better prepared team can always get the upperhand of a more athletically gifted team.
So when week after week Joe would see the Bucs struggle early in games and after a loss, Joe would hear some sort of take from Morris saying the Bucs didn't expect X, Y or Z or the opponent did something the Bucs weren't expecting. Well, a few times is understandable. Not week after week.
The Bucs haven't scored 10 points in the first quarter dating back to the Chucky administration. The fact that never has a Morris/Greg Olson squad been able to score 10 points in three years is difficult to fathom.
Throw in the fact Morris' defenses often found themselves scurrying for cover in the early stages of most games, the root of the evil is simply lack of preparation.
That squarely falls on the coaching staff's shoulders. How is it week after week opposing teams could be prepared and not the Bucs? Give Morris credit for, prior to this year's London trip, for finding a way to plug defensive leaks in the second half. But he shouldn't have had to consistently, or rely on the magic of Josh Freeman's fourth quarter rallies last year, if he and his staff did their jobs in the days leading up to the game.
2) The misuse of LeGarrette Blount.
From the early weeks of this season, it was clear the Bucs passing game was off. You can use legitimate excuses (Freeman's health) or illegitimate excuses (no offseason) to blame for this.
With the struggles of the offense, it was crystal clear the Bucs' best weapon was Blount. Yet the Bucs, short of the Packers loss, rarely used him. It seemed Olson couldn't wait for the Bucs to fall behind 10 points (and with the way the Bucs defense played this year, that didn't take long) so he would have a reason to bench Blount the rest of the game.
If there was one main reason for no offense this year, it was how Blount was horribly used. He was the key to the Bucs offense. Once he would start running the ball, it naturally would loosen up the defense for the passing game. And Blount showed flashed ability in the passing game. But no, Olson was happier with Freeman forcing passes to Kellen Winslow in triple coverage than to give the ball to a guy who threatened to take the ball to the house every time he touched the ball.
Now Joe has heard many stories about how Blount is often late to meetings or doesn't study his playbook effectively. For example, former Bucs quarterback Shaun King hints at these stories on his WQYK-AM 1010 radio show. But you know what? If Blount was truly this irresponsible, why didn't Morris just deactivate him?
If, as has been suggested, Olson and the Bucs didn't trust Blount (because he didn't know the playbook/late to meetings) then why was he on the active roster? How about deactivating him and telling him, "Look, as soon as you start showing up to meetings on time and know the playbook, then we will activate you."
Morris had him on the active roster, USE HIM! If you couldn't use him, or didn't want to use him, then why on earth did he eat up a roster spot and take away valuable practice and playing time from someone like Mossis Madu?
This gets to the next question that Morris needs to answer:
3) Why the lack of discipline and the wanton use of discipline?
So Blount fumbled and you benched him. Freeman made turnovers too. Did you bench him? Others fumbled too, did you bench them?
Winslow fumbled but that's OK, he was trying. Ah, got it. So Blount wasn't trying to gain yards when he fumbled?
Players made dumb penalties all year. So roughly three-quarters through the season, Morris decides to make an example of Brian Price, a guy Morris should laud since he's playing on one leg, and shows him up in front of both teammates and a home crowd and told to go home, like some high school stunt.
How many first downs did Winslow cost the Bucs with offensive interference calls? Oh, but he was trying, Joe's guessing, so that was OK.
(And yes, Joe understands Winslow was a target of zebras, a lot of calls against him were BS.)
Hey, no problem laying the law down with players for not using their heads. But why not start that in, you know, maybe August instead of November? And it might be a wise thing to dish out the discipline evenly instead of looking the other way with alleged favorites. No wonder people claim Morris lost the team.
It is Morris' answer to those three critical questions from non-mental midgets like Team Glazer and Dominik that may very well determine if Morris will get a chance to see his fourth year as Bucs head coach.