Raheem Morris, Bucs Fans And Mental Midgets
January 2nd, 2012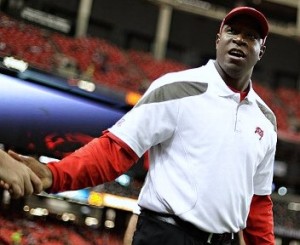 Now Joe will be the first to admit he's far from a perfect fellow — far from it! Joe's had many people suggest to him he has an inferiority complex. Whatever.
But Joe learned from a young age that you should always be humble, treat others the way you want to be treated (Joe fails at this too often, sadly) and the voice of Joe's dad rings in his ears, "You put your pants on one leg at a time just like everybody else."
So personally, when embattled Bucs coach Raheem Morris suggested he is not concerned with his job security because "that's for mental midgets," that really rubbed Joe the wrong way, and no it has nothing to do with circus employees.
Now Joe may not be a mental superior of Morris' or even a mental equivalent. But when exactly does a coach of an NFL football team, also the team's defensive coordinator whose players in his charge can't stop a cool breeze, a coach of a team that has lost 10 in a row and was absolutely clobbered to a pulp the past five games, get to cop an attitude that he's some superior being? No wonder the guy drinks alone on the holidays.
Joe never realized one had to be a virtual Stephen Hawking to run the worst defense in Bucs franchise history. Silly Joe.
So you are 17-31 in three seasons and the architect of the worst Bucs defense in franchise history and you are to be considered a sophist of some sort as a result? "Oh, good for you!"
In a society where debate on the job performance of the most powerful man in the free world, the president of the United States, is welcome, where does a coach with a losing record of a bad team get off that only lesser people can discuss his merit?
Now don't go mistaking confidence for arrogance. Two totally different things. But a guy with a losing career record that sees his team go from first place in the NFC South and a 4-2 record to the fifth pick in the draft with a defense that couldn't stop a Weedeater Bowl participant has zero room to be copping some attitude he is better than the fans he serves.
If Morris is retained — and it's possible, yes — Joe just hopes Bucs fans remember that phrase of Morris' when you cut your check for season tickets, that you shouldn't wonder if your team's immediate future is in the best hands, no matter the record, no matter the results, because Raheem Morris is far smarter than you, better than you and that you, Dear Bucs Season Ticket Holder, are a mental midget for even considering such a passing thought, an untermenschen.
Maybe later this week, this self-glossing superior man of intellect will get a little dose of humility that, by golly, those mental midgets actually fund a good chuck of his salary.
(Of course, a cynic would suggest only a mental midget would help support his salary with the types of results fans are left with like Sunday.)
If Morris doesn't want the entire Tampa Bay community turned against him — as if it isn't already — perhaps today at his weekly Monday press conference he may want to apologize to Bucs fans for copping that attitude, just like he apologized earlier in the season for dropping and F-bomb in a postgame press conference? Joe understands Morris talking down to fans Sunday was just after an ugly game with his job very much is on the line and emotions can get the best of people, even in a defense mechanism.
Joe would hope Morris would want to apologize later today to the people that help pay his salary.
It's what a person of superior intelligence would do.