Will Raheem Be The Skins' Assistant Head Coach?
January 5th, 2012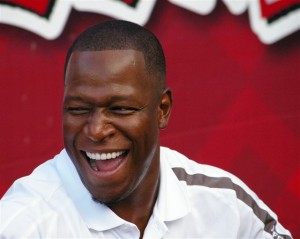 Cash-tossing Danny Snyder, Bruce Allen and Mike Shanahan might be after another big free agent — one with "core beliefs" who's "ready to deal." That would be Raheem Morris, the recently defrocked Bucs head coach.
Per Redskins reporter George Wallace's Tweet, Raheem has been dining recently with Redskins staff, and Brad Biggs of NationalFootballPost.com says Raheem might be tapped for a key position on Washington's staff.
The ex-head coach of the Tampa Bay Buccaneers is reportedly in the mix to join the Washington Redskins, who are looking for someone to clean up their secondary. George Wallace of WTOP radio in Washington reported Morris was spotted in the area dining with Redskins brass, leading one to believe he was in town for an interview.

It's possible the Redskins could look to add Morris as their defensive backs coach and coach Mike Shanahan could also give him the title of assistant head coach. Morris and Redskins offensive coordinator Kyle Shanahan have a relationship together from their days on the same staff in Tampa.
What a great potential fit for Raheem. Joe assumes Raheem would lose the $2 million remaining on his Bucs' head coaching contract if he coaches with another team in 2012. However, if the Redskins make it worth his while with a long-term deal, then maybe Raheem jumps to join Bruce Almighty and Shanahan, and revive his resume at the same time. Plus Joe assumes the allure of playing the Bucs next season would be quite attractive.
If Raheem gets this job, Joe wonders what free agents in the Bucs' secondary he might ask for? Elbert Mack? Ronde Barber? Surely not Sean Jones.