Jeff Fisher Will Not Interview With Bucs
January 6th, 2012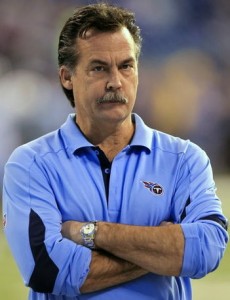 In the third report in as many days, this time even strongly worded, the Bucs will not interview Jeff Fisher to fill the vacancy of jettisoned Bucs head coach Raheem Morris.
Per Jim Thomas of the St. Louis Post-Dispatch, the teams courting Fisher have been whittled down to two: Miami and St. Louis.
All indications are that it's a two-horse race between St. Louis and Miami for Fisher's services. He apparently will not interview in Tampa Bay, as had been speculated.\

But the rest of the NFL has taken notice of Kroenke's serious pursuit of Fisher. With Bill Cowher and Jon Gruden seemingly intent on sitting out this hiring season, and no real hot coordinators on the market, Fisher is the belle of the ball in this year's NFL coaching carousel.

In conversations with a variety of sources around the league, one recurring theme has been that Kroenke must be serious about winning in St. Louis if he's going after Fisher. This will be Kroenke's first coaching hire as Rams controlling owner, and for better or worse, it will help define his ownership style to his competitors in the NFL.
On Monday after, eye-RAH! Kaufman of the Tampa Tribune reported the suits at One Buc Palace were indifferent to Fisher. The next day, good guy Maoist Michael Silver of Yahoo! Sports reported that the Bucs and Chiefs were the only two teams with head coach openings that didn't seem interested in Fisher.
Thomas' report seems to close the door on Fisher and the Bucs.