Captain Failures Can't Be Ignored
January 6th, 2012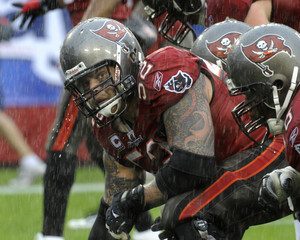 Perhaps every Bucs fan agrees that the Bucs had ineffective locker room leadership this season, from iconic former players, to staunch Raheem Morris supporters in the media like Shaun King and Steve Duemig, to the everyday fan that had to watch a lifeless team have the same problems repeatedly.
All could see the Bucs lacked discipline and inspiration.
It's not like the Bucs had no veterans or captains. Team captains were Ronde Barber, Quincy Black, Jeff Faine, Adam Hayward and Josh Freeman, and of course the Bucs had other veterans. But Joe has to put a giant spotlight on the captains.
Ultimately, these guys failed. Outside of Barber and Freeman, Joe knows the Bucs need new blood at the top of the leadership food chain. So the Bucs are almost forced to look outside the organization for a couple of standouts that can excel on the field and lead, especially on defense.
Specifically, Joe's grown tired of Faine in a leadership role. Joe had major issues when Faine scoffed at attending team bonding/practice sessions during the lockout. And Joe sees Faine as a guy whose on-field play and extensive off-field interests no longer make him an ideal captain.
Plus, look at Faine's paycheck for 2012, roughly $5 million non-guaranteed; that's cold hard cash the Bucs could use to sign an impact name that still has his best years ahead of him. As it relates to money, you could make the same argument against Ronde Barber, though Joe would never advocate showing the Bucs icon the door.
Quincy Black? Unlike Faine, the Bucs still owe Black guaranteed money. The thought of Black returning as a leader of the Bucs makes Joe shakes violently. Perhaps the man best known for his big "Redskin Package" sack against lowly Carolina in 2010 will be very happy in a true secondary role in 2012.