Bucs Have Contacted Mike Sherman
January 3rd, 2012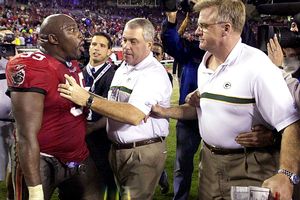 "The Professor," John Clayton of BSPN is reporting the Bucs have reached out to former Texas A&M and Green Bay Packers coach Mike Sherman in the team's search for a new head coach.
Sherman was 57-39 in six seasons with the Packers and won three NFL North titles. He was 25-25 in four seasons at Texas A&M and took two teams to bowl games.

It's possible the Bucs would lean toward a former NFL head coach with offensive experience to help quarterback Josh Freeman, who is considered one of the top young quarterbacks in the league.
Just a hunch, but if Sherman is the Bucs coach, we can expect not to see Warren Sapp around these parts until Sherman's coaching days with the Bucs ends.