THE OPTIMIST: Raheem Shouldn't Take The Fall
December 10th, 2011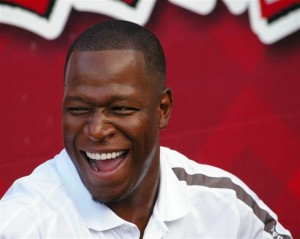 You've all read THE PESSIMIST, who spews his Bucs-related anger like no other. But Joe also brings you THE OPTIMIST. 
THE OPTIMIST is Nick Houllis, a Bucs fan and an accomplished writer whose steadfast allegiance to the Buccaneers goes back to the 1970s. Houllis is the founder, creator and guru of BucStop.com, a place Joe goes to get lost in time via Houllis' stunning video collection.
THE OPTIMIST will shine that positive light in your eyes. Some will love it. Some won't.
We have now seen the Bucs fall and trip over themselves for six straight games. The defense has crumbled to 1985 proportions, and maybe even worse. The Bucs are on pace to give up more points than any Bucs team ever since that era.
The outside linebackers are completely outclassed, and the secondary is shamefully not tackling anyone, other than No. 20.
We can't complain about the loss of Gerald McCoy because other teams have injuries, look at the Houston Texans. They were down their best D-ineman and wide receiver, and blew us out of the Bay.
This team has only one running back, and the Bucs offensive coordinator doesn't know how to use him. Not that it's Greg Olson's fault that LeGarrette Blount doesn't know how to pass protect yet, or is it? Maybe our running back coach is to blame.
Speaking of coaches, that's the first place everyone wants to go. Even the diehard fans are calling for Raheem Morris's head. Well, before I do that, it's time to pass some of the blame around. Namely, the Glazers; owners since 1994.
How do you fire the head coach you promoted to the job and told him to be patient and make this team win with a college all-star team? There are three veteran free agent players on this team right now that don't work on the offensive line.
Kellen Winslow, Ronde Barber, and Michael Koenen. Don't be surprised the punter is on this list; the two kickers for the Bucs are in a dead heat tie for 2011 Team MVP right now. My money is on Connor Barth by a nose.
The Glazers are the ones most responsible for this poor product. Coaches coach, players play. Right now this young coaching staff probably has some turnover in store for it, but head coach is probably not one of them. It was the Glazers who instituted this plan in the first place. Build a team through the draft, pile up draft picks and field a team so we can see where free agents are needed. Well, we now know where the holes are, so now your going to get rid of the coach?
It doesn't make any sense, and that is why I'm still behind Raheem Morris keeping his job, because there are too many indications in history of this sort of thing happening. It may not happen to this degree, but then again show me an example of a team of players so bad before.
Bottom line is anyone who is upset is guilty of putting too much stock into the Bucs 10-6 season last year, and the notion there would be guaranteed improvement. Last year the team overachieved, but this year it's underachieving. But we all built up our expectations too much. Most people predicted the Bucs would be 6-10 or 7-9, and that's probably where the Bucs are headed, so what's the problem?
If Raheem Morris is fired, it will be a done deal, and it will probably shock no one. But ask yourself this one question: you knew it was a long-term deal, you were prepared to undertake it. Is one more year so much to ask to make sure you don't make a mistake and set the franchise back 3-to-5 years?