Players Talking About Playing For Coaches' Jobs
December 5th, 2011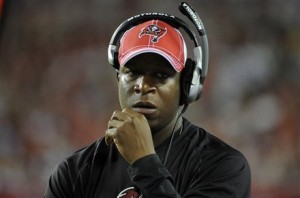 Are Bucs players feeling the warmth from Raheem Morris' hot seat?
St. Pete Times beat writer Rick Stroud says they are in a big way.
"The first thing that several [players] mentioned was, 'We got plenty to play for. We gotta play for our coaches' jobs. There's going to be changes in here if we don't win,'" Stroud said, speaking on The Dan Sileo Show on WDAE-AM 620 on Monday.
Stroud went on to say the players he talked to Sunday like all aspects of the Raheem regime but may be concerned primarily about their own job security under a new head coach.
Joe really doesn't care what motivates the Bucs. They're not playing — or coaching — anywhere near their potential, except for a few bright spots.
But all parties involved still have ample time and opportunity to save the regime. Four games is an eternity in the NFL.