"More Fundamental Tackle Drills" Coming
December 25th, 2011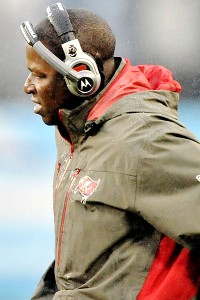 Joe can only imagine the tense vibe that might permeate Bucs practices this week. The team is on a nine-game skid with four straight blowouts, has seemingly quit on its head coach, whose seat his broiling hot, and it's the holiday season.
Not exactly a recipe for a healthy work environment.
Plus, Raheem Morris can't even run a nasty, physical week of practice because of the new labor agreement rules.
Regardless, Raheem gave a glimpse into what's coming at practice this week during his postgame news conference yesterday. Without yet watching the ugly game tape, Raheem knows his team can't tackle. So he'll focus more — again — on the fundamentals. (No, not the core beliefs, the other fundamentals.)
"We gotta tackle better. So I got to do more fundamental tackle drills, which we've been doing. We've gotta find a way to get Cam Newton on the ground and all these other backs," Raheem said. "When you got people in the hole you expect to make those tackles, you like to make those tackles. We're not. So I gotta do a better job coaching up how to tackle this week."
Good luck with the Week 17 teaching sessions, coach.