Jeff Faine Blasts Teammates For Turnovers
December 11th, 2011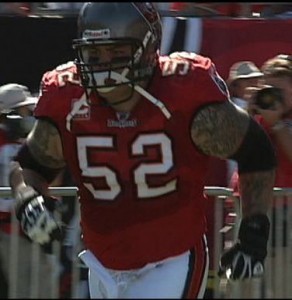 Bucs center Jeff Faine was one irritated dude when he was caught for a brief interview on the Bucs radio network immediately after the embarrassing performance in Jacksonville this afternoon.
In short, Faine took his teammates to task for the myriad of turnovers — SEVEN! — that were committed today.
"There's no way possible for this team to win with seven turnovers. It's just impossible. This is the NFL. Nobody can overcome that. We're just not playing fundamental football which Coach Morris just told the team and that is on the players. As players, we have to play better.
"The gameplan was to run and exploit on the play action and that is what we were doing. It was working. Where we came into a problem, a fork in the road, was stubbing our own foot and we couldn't stay on track. That has been the story of the season so far.
"At 14-0 in the first quarter, I'm calling for a blowout. Have some fun with it. But we diverted on that path.
"The Jaguars, we have to give them their props, we have to give them their due. But if we don't kill ourselves, it's a different ballgame and that is what gave them momentum. It made it a totally different game.
"There's a lot to play for to end this season on an upswing. We can't just flip a switch and be a football team next year just because we finish strong. We just have to focus on the fundamentals and play smart football."