A Damning Case Against Raheem Morris
December 11th, 2011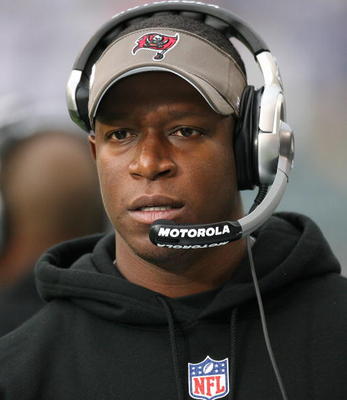 A lot of Joe's readers confuse being fair with taking sides. That simply isn't the case at all.
As Joe had stated previously, prior to last week's curb-stomping at the hands of the Panthers, Joe was convinced that embattled Bucs coach Raheem Morris would return for 2012.
After the curb-stomping, Joe was not as confident.
But when the last-place Bucs traveled to the First Coast to face the hapless Jags, with a putrid rookie quarterback and an interim coach, the Bucs got blasted by a team which had not scored more than 20 points all year, but also was playing on a short week, having lost to San Diego on the previous Monday Night Football.
Gary Shelton also strives to be objective when dealing with Morris' (lack of?) job security, which is not a popular thing these days as the masses have been gathering outside One Buc Palace with torches lit and pitchforks aimed at the ready.
The veteran St. Petersburg Times columnist admits it is now very tough to defend Morris.
Here's the thing: Morris has great energy, but so did Jon Gruden. He is a good guy, but so was Tony Dungy. His team is young, but so was Ray Perkins'. He'd like more time, but so did Richard Williamson.

Again, I'm serious about this. I have criticized Morris from time to time, but I would like to offer a sound, inarguable reason why the Bucs should bring him back. That's how disappointing this season has been. Even those who are inclined to defend Morris are having a difficult time doing it.

Could things change over the next four games? We'll see. The Bucs need to be a lot more disciplined. They need to show enough improvement to make you think they could be better next year. That means winning at least three of the final four.
Mind you Shelton penned this piece prior to today's debacle, one of the worst Joe can remember, allowing 41 unanswered points. Does anyone believe the Bucs can win the next three, two of which are against teams fighting for their playoff lives?
One of the premises for considering this season a mulligan, for giving Morris the benefit of the doubt for this season, was that there has been no offseason and an abbreviated training camp thanks to the asinine lockout.
Fair enough. But how is it that this obstacle did not mess with San Francisco, a team with a rookie head coach, or Cincinnati, with a rookie quarterback, or Denver, which had a new coach, or Carolina, the worst team in the NFL last year that has both a rookie head coach and a rookie quarterback, a team that thrashed the Bucs on their home soil last week?
Unlike those teams, the Bucs had their head coach in place, had their franchise quarterback in place, returned a veteran offensive line with two Pro Bowlers, had returning coordinators and beefed up a defensive line with a rookie defensive end (Adrian Clayborn) who has an outside shot of finishing the season with double-digit sacks, a first for a Bucs defensive end since 2005.
These are dark days for a once proud franchise. And the immediate future does not appear to get any brighter for Morris.
And that truly makes Joe sad.