Da'Quan Bowers Mans Up
December 24th, 2011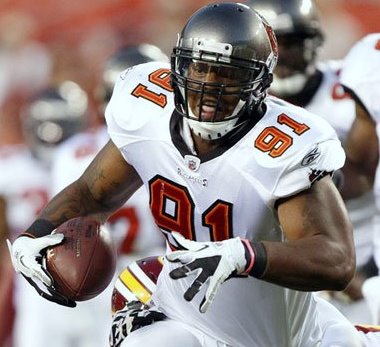 Some members of the Bucs, seemingly every week, name turnovers as the reason the Bucs lose.
Da'Quan Bowers, speaking on the Bucs radio network after the game, dismissed that as nothing more than an excuse. Rather, Bowers stated his fellow defensive teammates are simply not getting the job done.
"We have to come out with some momentum for next year. We have to try get it fixed before it is over, give us some momentum to carry over until next year.
"When [Cam Newton] gets the ball, it is all eyes on him. You can't let him gash you like he did. We didn't react to the counter fast enough and we didn't tackle very well. We were in position, we just didn't react to the counter fast enough.
"I don't care how many times we turned the ball over, as a defense, it is our job to get the ball back and until we do that, we are playing below standard. I don't care what mistakes the offense makes, it's our job to fix it."