Chucky's Full Of It
December 28th, 2011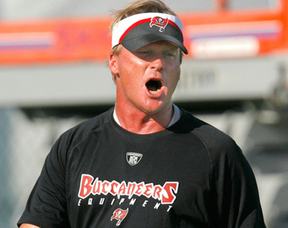 Joe doesn't often watch Monday Night Football on BSPN for one reason: Chucky.
Joe doesn't hate Chucky, but does hate him as a broadcast analyst.
Whereas Mike Tirico is solid (Joe misses him doing college football games) and Ron "Jaws" Jaworski is just about unmatched in his research with the lone exception of Mike Mayock, Chucky is simply full of it. Full of it being blather and nonsense.
Every freaking player is a Pro Bowler. Every friggin' player is having his bust made for Canton. To hear Chucky describe every coach, the guy's last name must be "Lombardi."
In Chucky's first season as a Monday Night Football announcer, Joe threw in the towel when he said Bill Callahan was the best players' coach he knew.
That bordered on an outright lie, not that Chucky would ever stoop to such a level (sarcasm alert). Callahan was the target of a mutiny when he coached the Raiders. Yeah, real players' coach.
It seems the voice of reason, the great Phil Mushnick, has had his fill of Chucky as well. Though the long-time New York Post columnist has taken many a potshot at Chucky over the past couple of months, he totally hammered Chucky recently, not just saying Chucky is full of it, but suggests Chucky does little research and in fact doesn't pay attention to the game he is analyzing.
Late in the third, after 49ers running back Frank Gore was tackled for a loss on a sweep to his right, Gruden took it as cue to make a short story long — and exaggerated:

"Hard to get the ball outside in the running game against this Pittsburgh Steelers' defense. You've all heard about settin' the edge, settin' the edge. These outside linebackers [Jason] Worilds and [LaMarr] Woodley do not let the ball outside."

On the next play, Gore ran around the right side for an 11-yard gain.
It's a pretty interesting read on how network broadcast types really expose themselves by not doing research, not paying attention to games but constantly yapping to try to cover up their mistakes and distract viewers.
When Chucky is off Team Glazer's payroll in a couple of weeks, Joe sure hopes he gets a coaching job, that way Joe won't always have to go to a bar to watch Monday Night Football. At most bars, the audio is inaudible, which is a good thing when Chucky's spreading the schtick thick, trying to impress a future boss/general manager.