A Crossroads For The Bucs Franchise?
December 27th, 2011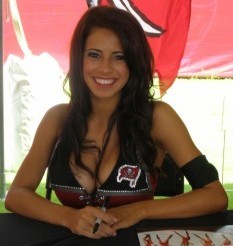 These are interesting times for Bucs fans. Some would say the franchise is at a crossroads.
The Bucs are in the midst of a grotesque nine-game tailspin with no end in sight, one that very well may cost embattled Bucs coach Raheem Morris his job.
One reason why Morris may be jettisoned is struggling ticket sales, which judging by the outcry of angry fans begging for Morris' head on a platter would drop significantly if he returns in 2012.
The lack of ticket sales was indirectly touched upon by Peter King of Sports Illustrated today in an interesting answer to why the Bengals — in a playoff race themselves — cannot sell out a home game.
"Love the column, keep up the great work! Why do you think the Bengals can't fill their stadium in the midst of a playoff run? You spent time in Cincy – do the fans just not care that much for Bengals football? I vaguely remember in the late 80's it was a very difficult place to play, the jungle and all. The stadium is in a great spot on the river…are the fans just gone given how bad the nineties were to them? Seems odd compared to a city like Detroit who went through a similar dry spell and are now packing their stadium."
— Josh, of Chicago

My gut feeling is they have Mike Brown fatigue. The fans don't trust Brown is doing everything he can to build a winner (Carson Palmer didn't either), and many are staying away in protest until Brown sells the team. Which, by the way, will happen on the 12th of Never.
This is a very, very interesting point for Joe.
Bad, good or indifferent, right or wrong, many Bucs fans are suspicious of Team Glazer (partially because of that damned English kickball team). This paranoia is currently whipped up daily by certain sports radio hosts that, in so many words, short of throwing open the gates of the football stadium on Dale Mabry Highway to the masses for free, suggest Team Glazer is evil incarnate and fans should start looking for another NFL team to support.
Joe simply doesn't get that rationale at all. The NFL is a business and it isn't the Florida State League where tickets are next to nothing and hot dogs and beer are sold for $1, much less a beer league softball team playing in a park in south Tampa for anyone to watch free.
Tickets to NFL games are expensive. They exist so the owners can make cash. That isn't going to change anytime in the near future in any NFL market.
It's called "capitalism." No different than plunking down $70+ to see Van Halen. Or taking out a mortgage to go to Disney World.
This "fatigue" that King speaks of may be real in this market, and a potential real problem for Team Glazer. Joe is convinced that one reason the Rays don't draw is because that scumbag Vince Naimoli so poisoned this market, that it turned a good chunk of the populace off baseball for good.
No matter the Rays making the playoffs three times since Naimoli was forced by Major League Baseball to give up control of the team, including a World Series appearance, the Rays are still swimming upstream from the damage Naimoli inflicted upon this market.
Joe has lived in a couple of areas where the locals had "fatigue" for owners. The first was Bill Bidwill, he of the 59 years without a playoff win. When anyone tries to tell Joe how Satanic they think Team Glazer is, Joe just laughs and asks them if they have ever heard the name "Bill Bidwill?"
Fans in St. Louis literally just gave up on Bidwill and, when he announced he was looking to move (sort of a shot across the bow in hopes of a new stadium,) it was met with a big shrug of the shoulders and applause in some circles.
When Joe worked in Chicago, Blackhawks owner Bill Wirtz did his best to kill hockey in the Second City, and very nearly did. Only the diehard facepainters went to games; the Blackhawks were easily the fifth rung on the sports ladder in Chicago and maybe even sixth below the University of Illinois and Notre Dame basketball teams.
The local AHL club there nearly drew as many fans as the Blackhawks it had gotten so bad.
Only until Wirtz died did the city of Chicago embrace the NHL once again as it had for decades.
Combined with the lack of Bucs ticket sales (mostly due to the economy, let's not be naive here), the outcry for the ouster of Morris and the prevalent if not misguided suspicion of Team Glazer, the Bucs may very well be at a crossroads next week. That is the corner Team Glazer finds itself painted into. If the unpopular Morris and his assistants are retained, Joe fears the Bucs are on the verge of being a victim of "fatigue," and it will take years if not decades to recover.
We live in an era where people can change allegiances at the drop of a hat. We live in a fast-food, instant-gratification, fantasy football, free agency mindset. A growing segment of sports fans demand change now, or they will change their emotions (and dollars) to another team, via sports bars and DirecTV.
Sadly, this mindset is allergic to how Team Glazer is trying to build a lasting winner, the same way the Packers and Steelers have.