Williams A Question Mark For Sunday
November 8th, 2011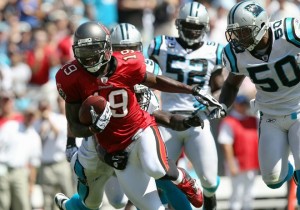 While Saints cornerback Tracy Porter lay on the Superdome turf with a serious neck injury Sunday, Mike Williams, the guy he collided with early in the first quarter, was banged up as well.
Williams stayed in the game and battled to the finish. Joe assumed Williams was fine, but Raheem Morris isn't so sure, so he said last night on The Raheem Morris Show on WDAE-AM 620.
Raheem said Williams had a significant thigh bruise and will try his best to be ready for Sunday.
The Bucs can't afford to be without Williams for any significant length of time, if they have designs on the playoffs. However, Joe would be very curious to see the receiving corps for a game without him. More action for the rest of the group could very well provide a spark.