Angry Bucs Fans Lashing Out
November 8th, 2011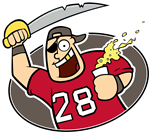 Joe takes in a lot of email from his many thousands of daily readers, but never more than yesterday and today.
So Joe feels compelled to answer a few common questions here to save Joe time and, hopefully, to entertain.
Q. I've written to you before Joe and so have some of my friends. You really have to start an Occupy One Buc movement. It's time the Glazers heard how angry we are that they're playing fat cat owners but won't buy us a good team or a good coach. We should all be marching at One Buc every [@#$%&] weekend. Why are you such a puss and scared to speak out. — James F. [Government IP address]
A. James, it's football. Get ahold of yourself. Joe's not a "puss" and Joe sees no reason to lead a revolution on One Buc Palace. If you want to organize one that has more than, say, a dozen screaming protesters, Joe would be happy to write about it. But Joe's not big into joining radical freak shows. Fans get to voice their displeasure, if they have any, with their dollars, their voices at games, and on the Internet. All three are heard loud and clear at One Buc Palace. What cracks Joe up about guys like you is that nearly all in your camp pegged the Bucs as a seven- or eight-win team this year at best. So why so angry now? The team is what you thought they were. Joe might have a more frothy outlook if the Bucs drop four of their next five.
Q. You make me sick, Joe, how you call Dominik "rockstar GM." Nobody even buys tickets to his show. What kind of rock star is that? You're a shameful shill for the organization. I hope Dominik's panties smell good. — Chris Z.
A. To clarify, Joe has never sniffed another man's undergarments and Joe would bet Dominik doesn't wear panties, though what a man does under his zipper is not Joe's business. Joe likes the "rockstar" nickname, born from the wave of national interview requests Dominik fielded after the last two drafts. Drafts take years to grade legitimately after the initial impressions. Dominik's first draft [2009] should be able to get a fair assessment after this season.  Assuming Freeman doesn't implode for the rest of 2011, just snatching him alone that year is enough to get Dominik a good 2009 grade. No, Dominik hasn't proven to be a Hall of Fame GM in 2 1/2 years, but Joe's going to stick with "rockstar."
Q. Hey Joe, the Bucs cut Chad Spann. They didn't even give him a chance. Did you see that? — BucJon99
A. Yes, Joe sees nearly everything, but Joe really doesn't report transactions. Most practice squad moves don't arouse Joe, so Joe doesn't write about them. If it bores Joe, then it won't show up here.
Q. Joe, you're so damn negative about the Bucs. You're probably not even a Bucs fan. Ever since your dumb site started you rip the Bucs. They're 4-4-you idiot and every fan with a brain knows they would play this kind of football with a tougher schedule and a young roster. All you want is Raheem out of town. —Anonymous
A. Some people say Joe is too negative. Some people say Joe is too positive. (See above). Joe can't win, and Joe's not trying to. You can rest assured Joe is a Bucs fan. Joe could make a lot more money doing other things than following the Bucs 24/7. In fact, Joe's writings here are done in between his "real jobs." Joe's never called for Raheem's head, not even after 3-13, so you're ridiculous on that point. Joe wants the Bucs to win regardless who is coaching. However, Joe would be the first to say that if Raheem doesn't take the Bucs to the playoffs next year, then, barring a truly bizarre set of circumstances, it's time for a new head coach.