Wacky Fourth-Down Calls
November 20th, 2011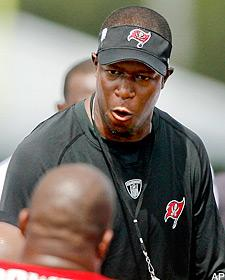 One could debate through the night the Bucs' decisions to go for two onsides kicks. They failed on both.
Joe really can't come down hard on those. The Bucs knew they needed magic and miracles today, considering their season-long failures in the red zone. And Kellen Winslow's 2-point conversion drop surely prompted the second onsides attempt in the fourth quarter.
What did shock Joe was the Bucs punting on 4th-and-3 in the fourth quarter trailing by eight points. If you're going to try onsides kicks, aren't your odds better of converting on 4th-and-3?
But the Bucs punted, the Packers got a huge runback negating the punt, then on the first play from scrimmage Elbert Mack picked off Aaron Rodgers on an excellent read. Joe had to laugh. That's football.
Essentially, Joe's just trying to say he can live with those calls as they played out in this game. It's surely not what cost the Bucs the game.