Spare Joe The Johnathan Joseph Argument
November 20th, 2011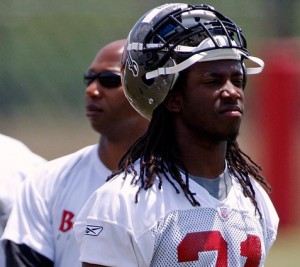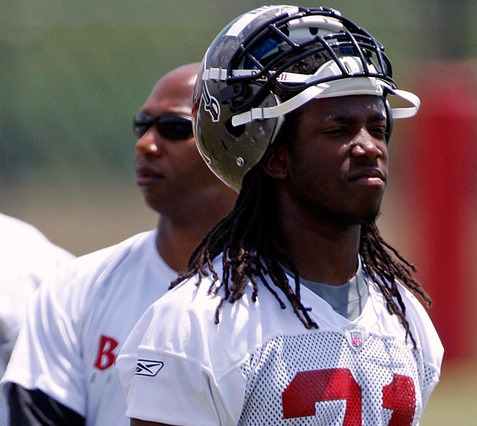 The game wasn't over with yet and Joe was already getting peppered with questions/arguments that Bucs rock star general manager Mark Dominik should have signed cornerback Johnathan Joseph.
For reasons unclear, Bucs fans have a bull's-eye on cornerback E.J. Biggers. Now Joe is not saying Biggers is playing well this year. He's not, but aside from today, neither has Aqib Talib.
The hate for Biggers stems from being mortal. He got torched a couple of times by — gasp! — Calvin Johnson.
Now if Biggers got skinned time and again by, say, Michael Clayton, Joe could understand the howls of fans. But to suggest that Biggers is a horrible cornerback because Calvin Johnson beat him is to suggest 95 percent of the starting defensive backs in the NFL are garbage.
In fact, the geeks at FootballOutsiders.com, a group of well-respected numbers-crunchers did exhaustive research and came to the conclusion Biggers was one of the top 10 cornerbacks last season.
This year, Biggers is getting picked on. A lot. So the cries to hang Dominik from the Sunshine Skyway Bridge for not signing Jonathon Joseph have begun.
Joe doesn't think Biggers is playing that terrible. Yeah, Joe said it. It seems when receivers are making plays against Biggers, it's only by a step or he's just outmuscled.
It's not like Biggers is getting his clocked cleaned time and again (like Myron Lewis today). That tells Joe Biggers' issue is fundamentals, whether it is technique or footwork, something correctable.
The hate on Biggers reminds Joe of the hate leveled against Brian Kelly when he gave up the game-winning touchdown in the 1999 NFC title game. Turns out, Kelly was a helluva cornerback and started in the Bucs' Super Bowl-winning season.
Now whether Dominik should have signed Joseph isn't really a valid argument to Joe. Does Joseph play the same type of defense that Raheem Morris runs? Joe hates the Bengals and has maybe watched Joseph play once prior to this season, so Joe cannot say.
If Dominik — who, one must remember does not dabble in over-priced free agents — should have signed anyone it should have been a linebacker (not named "Quincy Black"), not a cornerback.
Go call some Madden-type video player or some serial fantasy football player about Joseph; not Joe.