LeGarrette Blount Confirms He's Starting
November 4th, 2011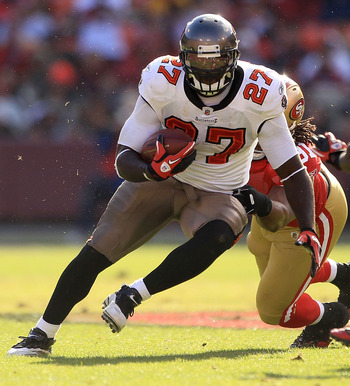 There really has been nothing coming out of One Buc Palace this week to suggest running back LeGarrette Blount would not play this week, coming off a knee injury suffered against the 49ers.
But any doubt about Blount's status has been laid to rest, thanks to Joe's good friend Justin Pawlowski. Blount granted Pawlowski an exclusive interview, to be heard during the Bucs pregame show heard on the Bucs radio network hosted by Pawlowski himself.
Pawlowski, otherwise known as "The Commish," wrote about his interview with Blount on his website.
To my surprise, when Blount and I entered the hallway, he told me that he enjoyed talking with me, which is when he told me that he will be playing on Sunday.

"It feels good. It feels real well," Blount said about his knee. "No soreness, no pain, so we're gonna test it out on Sunday."

It is my opinion that the Buccaneers refrained from rushing Blount back from injury to soon to make sure he was fully recovered for the stretch run.
This is great news to read and of course no one is more happy about this than Joe.
Hope the knee is fine LeGarrette. You should be getting the rock 25 times Sunday.