Does "Familiarity" Cure Slow Starts?
November 3rd, 2011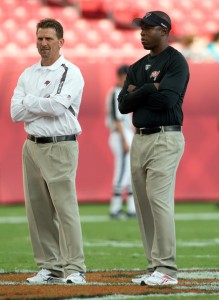 The subject that won't go away, the Bucs' painfully slow starts to games, was thrown at Raheem Morris a couple of different ways today at his news conference.
Raheem emphatically said the Bucs' struggles in that area have nothing to with coaches' ability to motivate or the team's competitive fire; it's more the team trusting its coaching and executing.
But Raheem did offer one theory that seems to bear out a bit. Asked why the Bucs started well against New Orleans 2 1/2 weeks ago, Raheem said, "You know, maybe everbody just a little bit more comfortable because of their famaliarity with New Orleans, but we gotta get that every week, in a week of preparation with the whole football team. And we can. And we will."
Looking back at the Bucs' performances during this era, they have started better in games against division opponents compared to teams outside the division, including games against the Falcons and Saints this year.
Joe suspects the relative consistency against familiar foes isn't a coincidence.