Freeman Wears A Wire
November 17th, 2011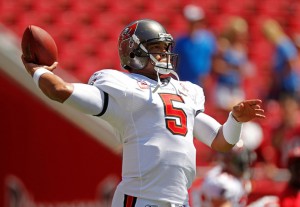 Nothing like an NFL Films look inside a game. Joe's just hooked on this stuff that makes the Real Man Channel, NFL Network, an absolute must.
During the Bucs-Texans game Sunday, Josh Freeman wore the famous NFL Films microphone, and you can watch a 3+ minute compilation here and get a look inside the game.
Sadly, it's also a great look at how Dezmon Briscoe, Mike Williams and Arrellious Benn let down Freeman on Sunday.