The Strangest Play Of The Game
October 23rd, 2011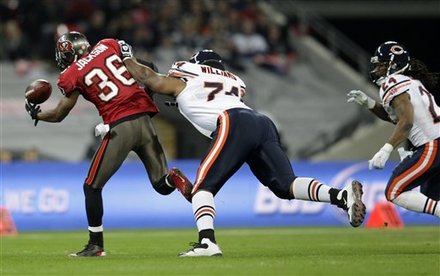 So Tanard Jackson comes out flying around the field again today in jolly old England. Yeah, he missed a tackle on Matt Forte on the Bears' first touchdown, but T-Jax was having his presence felt out there.
Then, on the Bears' next possession, Jackson turns in a one-handed, left-handed interception of Jay Cutler at midfield. He runs the ball back and with seemingly only Cutler and a trailer to beat, Jackson cruises out of bounds at the Bears 12 yard line.
How the hell does he take it out of bounds there?
Perhaps that's the play Jackson pulled his hamstring on. Joe's not sure. But Joe would think sheer adrenaline — something pumping through Jackson for the past two games — would have had Jackson lowering his shoulder for 10 more yards.
Yeah, Joe spilled his beer and couldn't believe his eyes.
Of course, Josh Freeman was intercepted on the next play, when Mike Williams didn't hold in the end zone.
Corey Lynch made big plays — and some bad plays — filling in. But he's not Jackson.